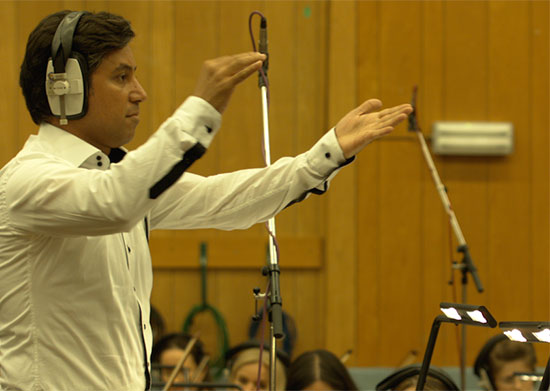 Conducting London Orchestra
About me
My name is
Sassan Mohebbi
. I am a classically-trained composer, conductor and pianist with a professional interest in film, TV, theatre, and video game music. I earned my Master of Music degree in Scoring for Film, Television, and Video Games from Berklee College of Music in Valencia, Spain, where I studied under,
Lucio Godoy
(film composition),
Alfons Conde
(film composition),
Pablo G. Schuller
(mixing and mastering),
Ben Houge
(video game composition) and
Vanessa Garde
(electronic music and sound design).
I have graduated from The University of Music and Performing Arts Vienna as well under
Rosario Marciano
(piano), Leonore Aumaier (piano),
Alois Glaßner
(orchestra and choir conducting),
Herwig Reiter
(choir conducting),
Kurt Schwertsik
(composition),
Christoph Cech
(composition) and
Wolfram Wagner
(orchestration).
I was born in Tehran, Iran, and was fascinated by music at an early ages. When I was fourteen and living in Berlin,
University of Music Vienna
I heard my cousin play the Flohwaltzer. I was so intrigued, that I repeated exactly what she had played - by ear. This was my first experience at the piano, and with it began my musical education in Berlin. Later, in Tehran, I continued my studies in classical piano with Katayoun Kimiaee and Fereydoun Nassehi and Iranian Piano under
Javad Maroufi
and Iranian classical music under
Farhad Fakhreddini
.
At twenty-one, I got the responsibility for the musical instruction at the Iranian Film Academy of the Iranian Ministry of Culture in Tehran. In January 1994, I was invited by Ali Moradkhani, the director of the Tehran Concert Hall, to perform in the first concert dedicated to the memory of Prof. Javad Maroufi, which took place in the
Roudaki Hall
in Tehran.
At the age of twenty four, I decided to move to Europe to continue my musical studies. I was accepted to the University of Music in Vienna, Austria, where I began studies in composition and piano with a minor in orchestra and chorus conducting.
At twenty nine, I started singing in the chorus of the famous church
St. Augustin
in Vienna. During this time, I also became the conductor of the Persian Women's Chorus in Vienna, for which I composed and arranged all of the musical selections, as well as worked as the student representative for the department of Keyinstruments at the Ludwig van Beethoven Institute. At the age of thirty two, I have successfully completed my studies at the University of Music in Vienna - as a composer and pianist.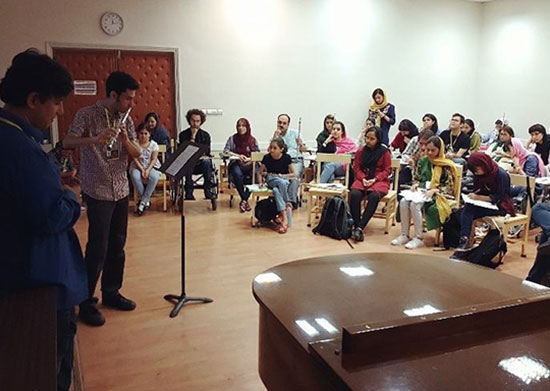 Tehran University
Later, I have decided to persue my interest in film music and joined the Hollywood music workshop in Vienna by
Conrad Pope
. After this experience I decided to study film scoring and went to the Berklee College of Music in Valencia and studied Scoring for Film, Television and Video Games
Aside from composition itself, I consider my academic background to be my strength. My robust foundation in the history and theory of both Western and non-Western musical practices throughout history, as well as a healthy exposure to electronic music and sound design, enables to make informed decisions while composing -- you could say that it makes me something of a musical Swiss Army knife.